In November IntegrART team visited Warsaw for on-arrival training for volunteers. For five of us, it was the first time in the city. And for all of us, this week was filled with new experiences, change of perspective, excitement and valuable information about European Solidarity Corps and volunteering in general.
Now we want to share our thoughts and impressions after a week full of new experience.

Marta
The on arrival in Warsaw was very useful and inspiring for me. First of all, I had the opportunity to meet people from different countries, with which I shared the italian culture. I also liked listening about their education, religion and rights: It was the first time for me I had heard so many information different from mine.
They also recommended me to visit the most beautiful places of their countries, and I'm looking forward to going there! During these five days we also discovered better the polish culture thanks to our two coordinators and speaking directly with people that live in Warsaw.
After this experience I came back to Kraków with new ideas that I can use during this year. I hope the next training will be a great experience like this.
Roger
It was an amazing week, one of the best of the year, I met great people and we took part in many trainings and activities on differences, ecology, Polish history and it's language etc. … It was really interesting.
During the whole week, we did a lot of activity about our own culture, traditions, way of life, differences of education system etc… On one of the days, we went to the History building of Warsaw University, and we asked questions to students about Second World War, and about the difference between the Russian and German influence on this topic! It was so cool, because they were brilliant students, they were really interesting.
I found the city different from Krakow, but very pretty! I'm already thinking of going back. But I'm glad to be back in Krakow!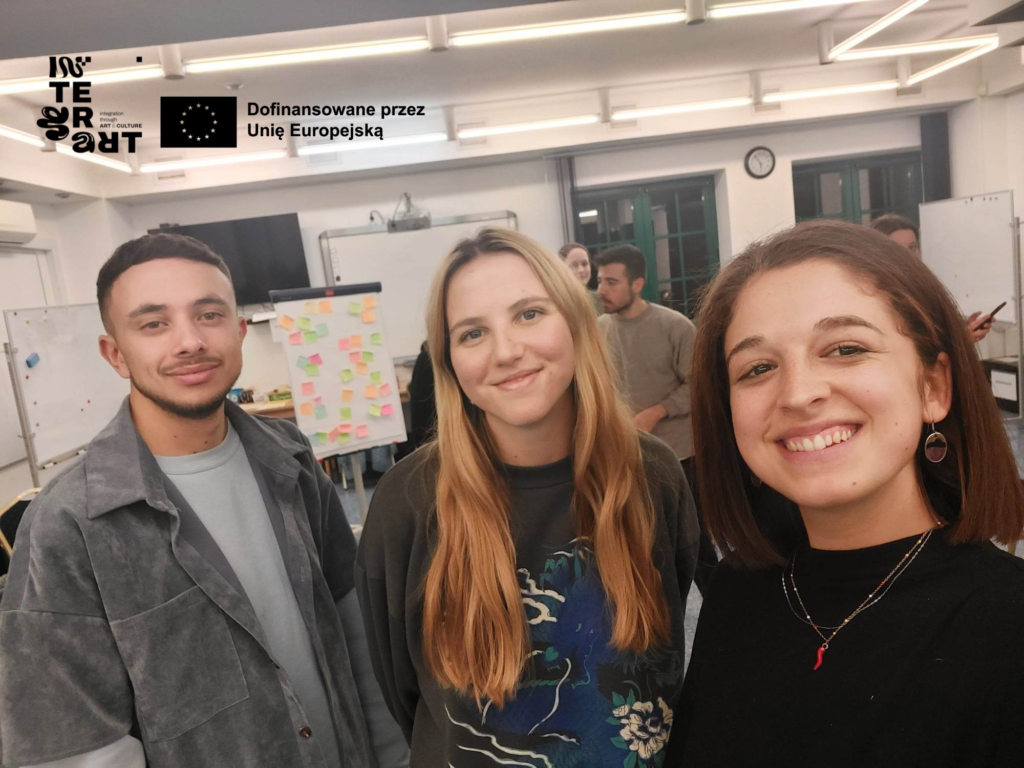 Tereza
ESC on arrival training in Warsaw was great opportunity to meet volunteers from all over the Poland and share our stories. Through listening to them I realized we all face the same worries and that I am not alone.
It was also great opportunity to get to know little bit from their cultures but also more about the Polish culture. Through the activities that were prepared for us I got to learn how to improve my work as volunteer and what is my actual goal this year.
Anastasiia
Although it's almost been a month since we came back, I still think about our time in Warsaw. Have you ever been to a summer camp? I haven't, but that's how I imagine it. Only differences are that you're no longer a kid, and all the experience is squished into one week. it was still amazing though. I met more people that I had in the last couple years, I did some things I've never tried before. But it all felt natural.
Warsaw is very different compared to Krakow, although it was nice to discover a completely new city in Poland. Twenty one person who never met before became a team immediately, from the first day. We also discovered that everyone in our IntegrART team are very informed about all things volunteers, but also got inspiration for future event and projects.
Zoe
For me, having an on-arrival training is a crucial part of being a volunteer of the European Solidarity Corps. Not only did we talk about our rights and possibilities, learnt more about Poland and Polish culture and got to see a different city, we also had to chance to meet other people. People from various backgrounds, but with the a similar mindset. It was amazing getting to know other volunteers and making new friends, I also got inspired by their ideas and experiences.
Overall it was a very nice week and I am very much looking forward to the midterm training in Torun!
Avgoustis
When it come to the "on arrival training" I have only the best memories. It was a 5 days training in which I got the opportunity to meet people from 15 different countries, integrate with them and get to know better their cultures and their heritage.
It was an impactful week for me as I've learned more about ESC, had the opportunity to learn more in depth myself and the others participating in the training and all that in a fun way. We played games, discovered Warsaw had to do some challenges such us interview people on the street or make up a 5 minute theatre and had great time in our spare time.
Stepping out of your comfort zone makes you grow every time!!
After this training I can happily say that I have some new friends from all around the world, with whom I am definitely going to meet again soon and travel with them/to them.