IntegrART team wishes you happy winter holidays! Being from different countries, those holidays can look different for all of us, so we decided to share with you some of our family's traditions and funny stories!
Stay with us for more adventures in 2023! See you next year!
Marta
Christmas is one of the most important celebration in Italy, as well as my favorite. 🎅The preparations begin on December 8th, when every family decorate the tree 🎄, under which, at midnight or the day of Christmas, Santa Claus puts presents for all children. 🎁
All cities are decorated with beautiful lights, like Como, the city in the picture, and for all month the Christmas Markets in the squares are full of people: this is the right place to buy gifts drinking hot chocolate.
Some families, in particular in the south of Italy, have a dinner during the Christmas Eve, but for me it`s different: on December 25th I have a big lunch with my family, I exchange gifts with friends and I spend time with people that I love. It`s always a magical day, and I like the atmosphere there.
I like this day also for the food!!! The best dishes that I eat on Christmas are shrimp in cocktail sauce🍤 , Pasta al forno 🍝, Tortellini in brood 🥟, and Panettone, a sweet bread with dried and candied fruit, although a lot of Italian people prefer Pandoro; the name is from "pan de oro" and was served on the tables of the wealthy Venetians. Every region has different tradition and different food, for example struffoli cannot be missing in Naples!
One of the most important board games that all families play during the Christmas time is Tombola, a traditional game born in Naples in 18th century, it`s a nice game because people can win a small prize and it's a chance to stay all together.
The New Year's Eve is another important celebration. I usually spend the evening with my best friends: we organize a dinner, we dance, and at midnight we make toast and after we eat lentils with cotechino o zampone, the typical meat dish for this celebration.
This year I will spend Christmas day in Italy, but I`m very curious and excited to be in Kraków for the New Year`s Eve, with people from different countries! 😍
Zoe
Since my parents are separated and from different countries, Christmas didn't always follow the same procedure for me. One year, I celebrated with my family in Poland, the next year in Austria. The past years my brother & I were with my dad and we celebrated Christmas Eve with Polish traditions. Usually I am not a big fan of traditions, but I love the ones at Christmas. That's why I prefer Polish Christmas over how it's celebrated in Austria. In Austria the family enjoys a relaxed day, in the evening there is a feast with a meat or fish dish and then there the presents – just a regular family celebration.
But with my Polish family, the 24th was always a bit stressful because there were loads of preparations to make. Traditionally people eat 12 dishes (there is no meat, but fish) and set the table for one extra person, in case someone stops by. I usually fast until the dinner and before we start eating, we tell what we wish for each other for the next year. If we are not celebrating with my Polish grandparents then we will probably not have 12 dishes (but still a lot of food) and this year we are even doing a completely vegetarian Christmas!
I am not a person that is starting in November to look forward to Christmas. Usually I get in the mood on the 24th, but this year it was a bit different. For one thing, my roommates had the idea to decorate our apartment a bit and we had a Christmas dinner on the 21st of December. For the other, Christmas meant coming back home for me which I am very excited about!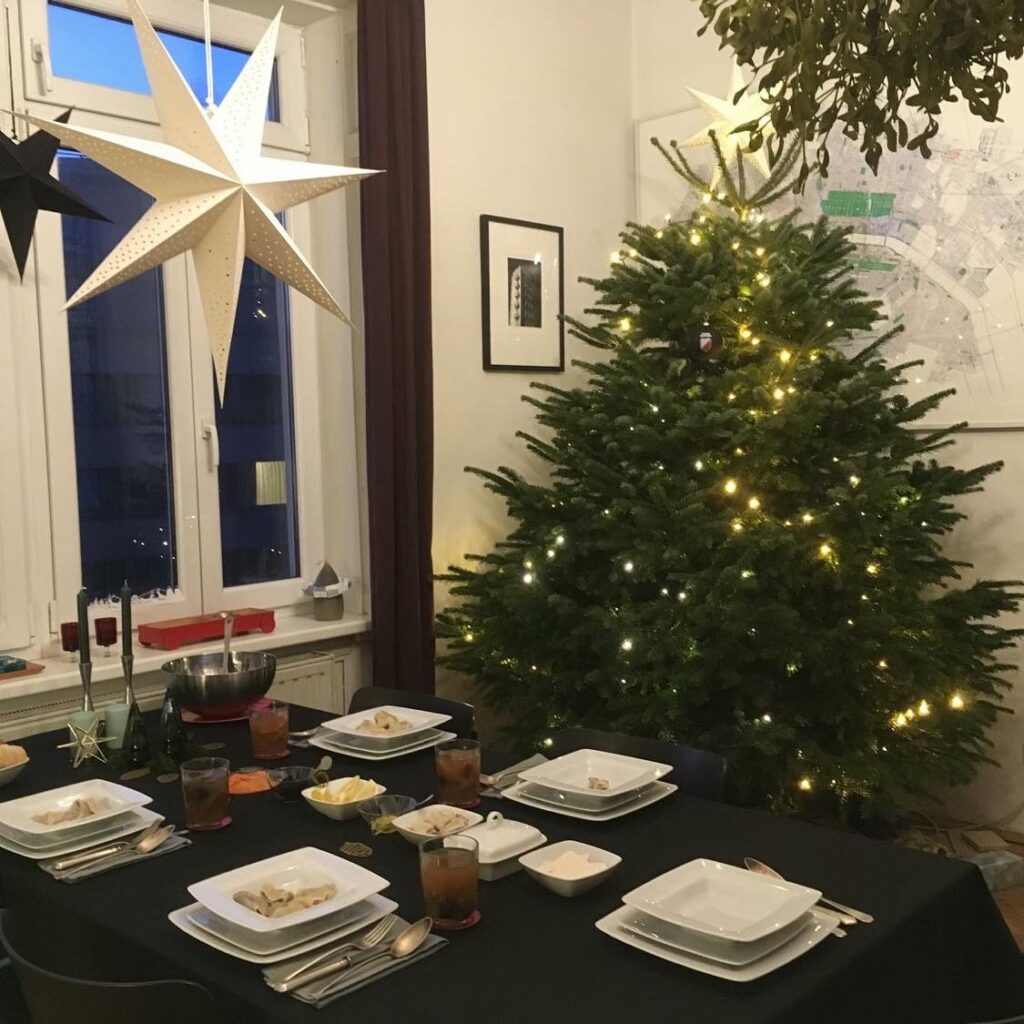 Avgoustis
Christmas time for me was always a family matter!! On Christmas Eve, day of Christmas, New Year's Eve, and Day of New Year, the 4 members of my family (plus my dog😂) gather all together and have dinner. And sometimes we have New Year's Eve dinner with other relatives and friends. Always this dinner consists of some traditional dishes and for sure the Christmas traditional Greek sweets (Melomakarona, Kourampiedes etc).
On New Year's Eve we close the lights, start the countdown and then we exchange wishes as well as our gifts (in my family we exchange on new Year's and not on Christmas).
And then we cut a cake that in Greece we call "Vasilopita" and inside there is a coin. It is considered that whoever gets the coins to their piece, has lots of luck, health and wealth for the whole year.
And we end our New Year's by playing some card games.
But this year my Christmas will be different. I am going to have Christmas with friends instead of Family for the first time and then New Year's Eve with my Family. So let's see how this goes 😂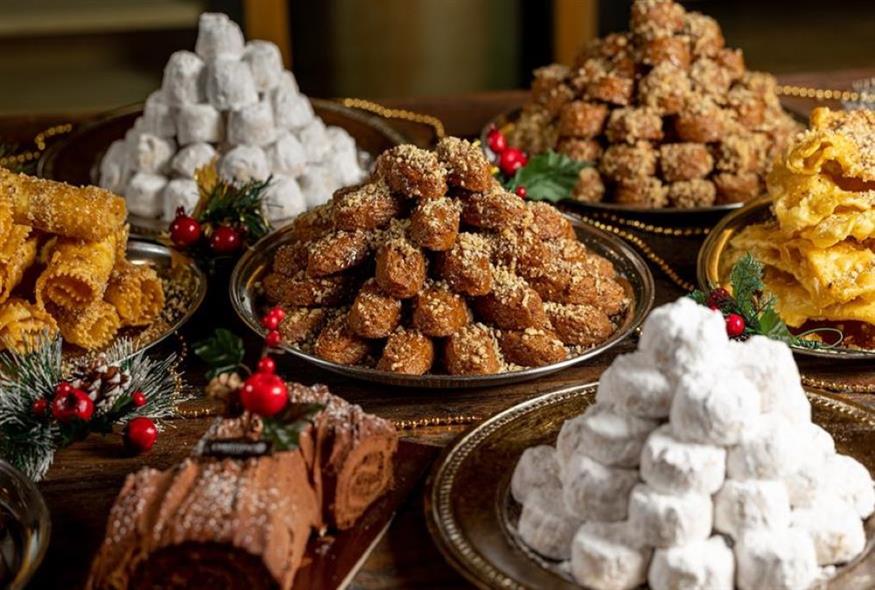 Tereza
In Slovakia, we celebrate Christmas on the 24th of December. On this day we prepare a dinner that consists of cabbage soup, fish with potato salad, and other small side dishes like dumplings (pirohy), sweet pastry with poppy seeds, or pies – depending on the region. Before dinner some people, but mostly children do not eat the whole day. We have this Slovak saying "Keď vydržíš nepapať, uvidíš zlaté prasiatko!" – which translates to "if you will endure not to eat, you will see a gold pig". By saying this parents try to stop their kids from eating a lot of snacks and Christmas sweets because then they are full and don't eat their Christmas dinner. After dinner we normally eat a small piece of garlic or walnut for health, we cut apples and try to look for the star in the middle which symbolizes luck, and wafers (oplátky) with honey. Families also put money or fish scale under the table cloth and leave it there until the next year comes, which is supposed to bring a lot of money and luck. During dinner, nobody is supposed to leave the table. Some families also prepare one set of an empty plate with cutlery. It is an old tradition where people would prepare one extra set in case somebody would unexpectedly show up or as a way of honoring the ones who passed away.
After dinner, we come to the Christmas tree and normally the youngest one is in the charge of handing out the gifts. Gifts are handed out one by one and everybody waits until the person unwraps the gift before we move on to the next one. After all gifts are handed out, we watch Christmas movies and spend time together. At midnight, religious families go to church. On the 25th and 26th, we visit our other family members and have Christmas lunches or dinners which consist of different soups, meat, and a lot of sweets. Before Christmas itself, families do big house cleaning to prepare for guests and also to start the new year with a clean house.
On the 31st of December families and friends gather again to celebrate the new year. We prepare a lot of drinks and snacks. At midnight we count the last 10 seconds of a year together and with a cheer and hug, we welcome a new year. In my country we have a saying "Ako na Nový rok, tak po celý rok!" – which can be translated to "how you will do for the first day of a new year, that is how you will do for the rest of the year". It means that you should be productive on the first day of a new year because the first day affects the rest of the days, but in reality, most people just sleep after celebrating until early morning.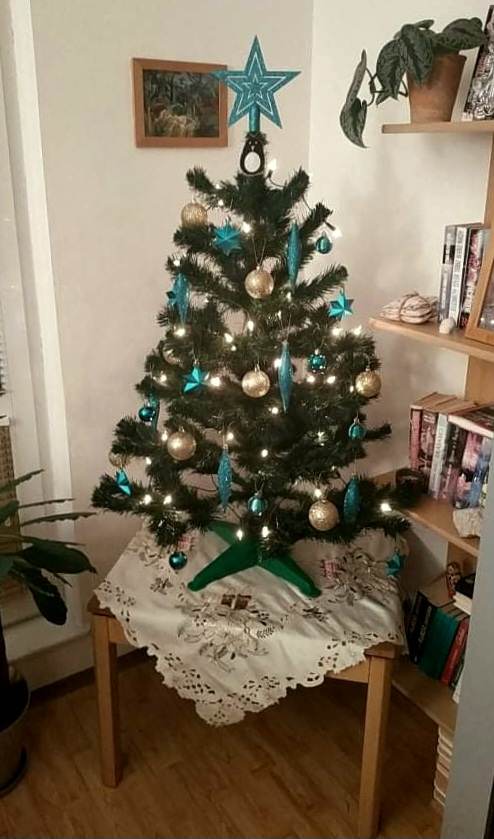 Anastasiia
New Year's Eve is my favourite holiday of the year. It's a time to analyze your ups and downs during previous 12 months, time to think of what you want to leave behind and to bring to this next chapter, time to believe in miracles, make wishes and have hope in your heart. And most importantly, it's a very warm cheerful celebration which lasts a month or even more, as you wish really.
Sadly due to soviet influence Christmas is not so big of a celebration in Ukraine as the New Year's Eve (authorities attempted to ban Christmas celebrations and later russia appropriated Ukrainian traditions). At least it's like this for the families that I know. But I hope it will change, seeing how people in Poland cherish this celebration and spend this time. As noted by The Washington Post, this year especially, many Ukrainians are embracing December 25th as Christmas for the first time, reflecting a desire to be more like the West and less like assailants. I know we will create new authentic traditions, find our more about our real roots and celebrate our heritage more.
For winter holidays, we developed some traditions at my home and I also have some that I'm keeping up with by myself. We start decorating the apartment in the first half of December. We have silver and red decorations and a tall fake christmas tree, which we had for years. Recent years I've been also printing some pictures with highlights of our year, it would be pictures of us on the trip, some celebrations, graduation, birth of the new family member. It instantly made the tree more personal and special for us. I also like watching themed videos on YouTube and rewatch my favourite movies at that time, which can challenging. I like to watch Vlogmas, Christmas episodes of my favoutive TV shows and also some classics like Home Alone, Love Actually, Bridget Jones's Diary, While you were sleeping… The list goes on.
Holidays are also a perfect opportunity to show someone close how much you appreciate them. Days before New Year's, my friends and I visit some nice christmas locations in the centre of Kyiv. Usually we also go to some coffee shop to warm ourselves a little and exchange gifts! I would always spend New Year's Eve with my family, we dance, have fun, my grandma cooks enough food for days, so we have a great meal for a while after the celebration. For Christmas, I really like a dish called kutia which is made with wheatberries, poppy seeds, honey, walnuts, dried fruit. It's usually also a nice peaceful day for the family.
I have to mention that sadly this year winter holidays look very different in my country. Without regular electricity, heating and with heavy hearts. But Ukrainians have a lot of willpower and pride and we cannot let ourselves be broken by those hard circumstances. This Christmas, I'm wishing for more justice, for positive news, for more kindness and peace.