Winter season has a lot of benefits to look forward to. It gives us excitement from magical holidays, anticipation of something new with the New Year, happiness from connecting with people, warm feeling inside… But it can also be challenging. For example, if you're a foreign person spending winter in Poland. The weather is not similar, plans can be ruined because of the cold and snow, you're missing your family as the days get shorter…
However, coming to the half of this season, we realized it's not as scary as some people say and you can definitely create a great routine for yourself in our place. Avgoustis, Anastasiia and Tereza decided to give some advice on what to do and what to avoid so you can actually enjoy winter time in Poland.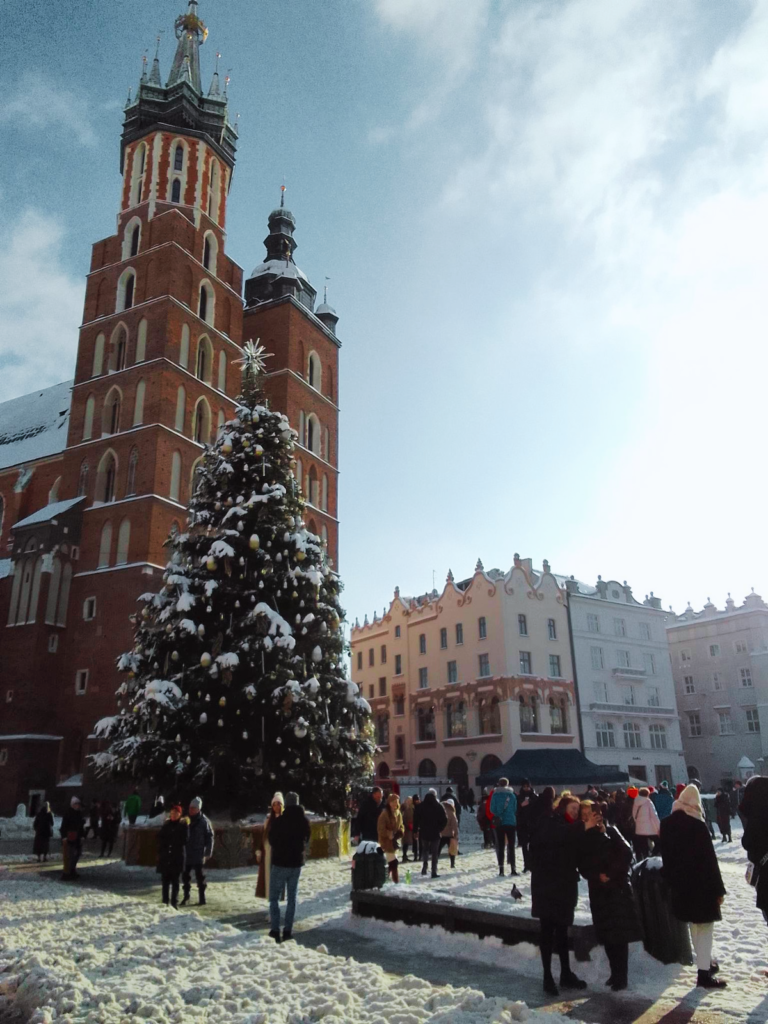 Avgoustis
Winter in Poland…Hmm, let me think about it.
Even though it has already snowed quite a few and some days the weather is very cold, I think we still haven't seen everything. But as I've experienced so far, Poland is equipped and knows how to make the most out of the winter climate here.
From ice skating that you can find to a lot of different places here in Krakow to other winter activities that you can do while having a trip through Poland, I think the opportunities are endless. Nothing stops here due to wintery weather. Still plenty of theaters, concerts, sports activities and plenty of cool and cozy places to hang out with your friends for coffee, tea and restaurants to eat, to bars and clubs full of young people from around the world.
One small advice though.
Bring lots of warm clothes with you, layer yourself with different items and for sure have with you at all times some sort of a scarf, gloves, a cap for your head and a good pair of waterproof and non-slip shoes. If you have all that, I am sure you are going to have a great time here !!!
Anastasiia
Winter in Poland is quite similar to the one we have in Ukraine, so I was kind of prepared. I think one of my suitcases was mostly stuffed with warm outwear or hoodies, which says a lot.
So firstly I would say to bring clothes that would be good for layering. Tank top, turtleneck, tights, leggings, long socks. They are all must haves. The footwear is really important, considering that the temperature changes almost every day, so one time you will need long boots so you don't get your feet wet from melting snow, and the other time you need shoes that are not slippery in case it's icy outside. The pair that's good for both occasions is perfect. Don't forget about some transitional clothes and also puffy jackets or any outwear that is warm enough when it can hit -15°C degrees. In the afternoon.
For the daily habits, just try to be kind to your body and mind. December can be stressful because holidays are coming up, and the rest of winter can be sad because it's cold, not so many things are happening, you're far from home… You name it. So I advice to try to build the routine that is suitable for you, without pressure and with your state of health considered. Don't be lazy on the weekend and make some nice warm food. Soup is great, or if you don't like it find some alternatives, like a porridge, mashed potatoes… Coming home from work, you'll be happy to have a plate of warm dish after a long day.
Krakow is an amazing city to be in during winter. Here, I started to like this season more, with a combination of beautiful architecture, cute parks and thick snow. It also fully embraces the magical atmosphere of holidays. Just note that it's a city that attracts a lot of tourists, especially during Christmas time, so it can be crowded on the weekend. If you're not comfortable with this, you can visit some popular places on weekday evenings, or in the morning of the weekend. Either way, your experience will be better.
In winter we tend to be less active which is absolutely normal, but try to move your body with joining some activities. You can go ice skating, sledding, visit a museum, join a workshop, go to the cinema and watch something in English or even Polish… For me, I also love taking longer walks and explore. It's easy to get into the routine but finding cool places near you is always great.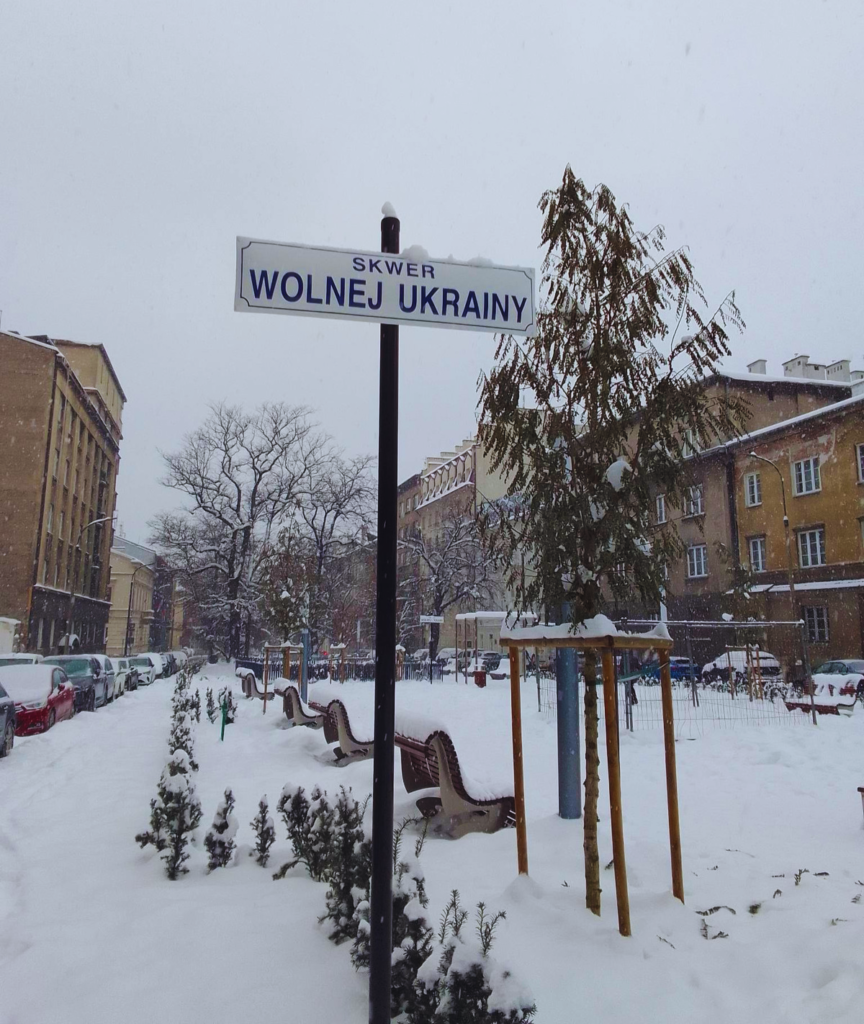 Tereza
Winter is a beautiful season. Everything is white, Christmas is coming… But it is cold, and here in Poland, it can be very cold. After nice autumn with 10°C and nice colorful leaves falling… suddenly, it is -5/-10°C and snowing. And from that moment it is very important to take proper care of yourself.
First of all – clothes. Winter cap, gloves, scarf, winter jacket, or coat are must-haves. I also like to put on more layers like a turtleneck under my t-shirt or hoodie/sweater and stockings with long socks under my pants. It is better to have something to take off if you are too hot than to have nothing to put on when you are freezing. Very important are good boots. They shouldn't be just warm and waterproof but also with good soles because in winter the roads and sidewalks are covered with ice, snow, and also some salt or small rocks and it can be pretty hard to walk through all that.
Secondly – health. For our body is very important vitamin D, which our body creates on its own when we get enough sunlight. But here in winter, there is no sun. And so, we need to supplement vitamin D in the form of tablets that are available in any pharmacy. Good is also vitamin C, available in pharmacies or even supermarkets, which is good for the immune system. Apart from this, one or two hot teas every day are also must have. It keeps you warm and if you drink some herbal teas, they can also help you with energy or illness like cold or flu. If you are sick and you need to buy some medicine, but you are afraid of the language barrier, you can go on websites of pharmacies that are close to you and find all the meds you need there. Sometimes meds we have in our countries are not in others, so we need to find something similar. When you go to a shop later you can just show everything you need on your phone to the seller.
Last but not least, the best food in winter is soup. Nothing will make you fuller and warmer than a good, hot soup. And of course, don't forget to make your long, dark, and cold days better with some winter walks, your favorite winter/Christmas movies, baking or any other fun activity you enjoy.