Hello-hello!
Today is September 19, outside is the first real autumn rain, and it's only 11 days left until the end of one of the biggest adventures of my life. Vibes of sadness are already flying in the air of Pijarska flat, but we don't give up and try to make the most of the last moments of the IntegraART project. That's why I think now is the perfect time to share my experience with you.
I joined the project a little later. To be as precise as possible – on January 20. On this day, I had a choice – to go to my graduation ceremony at the university or to come to Kraków – and without hesitation I chose the second option.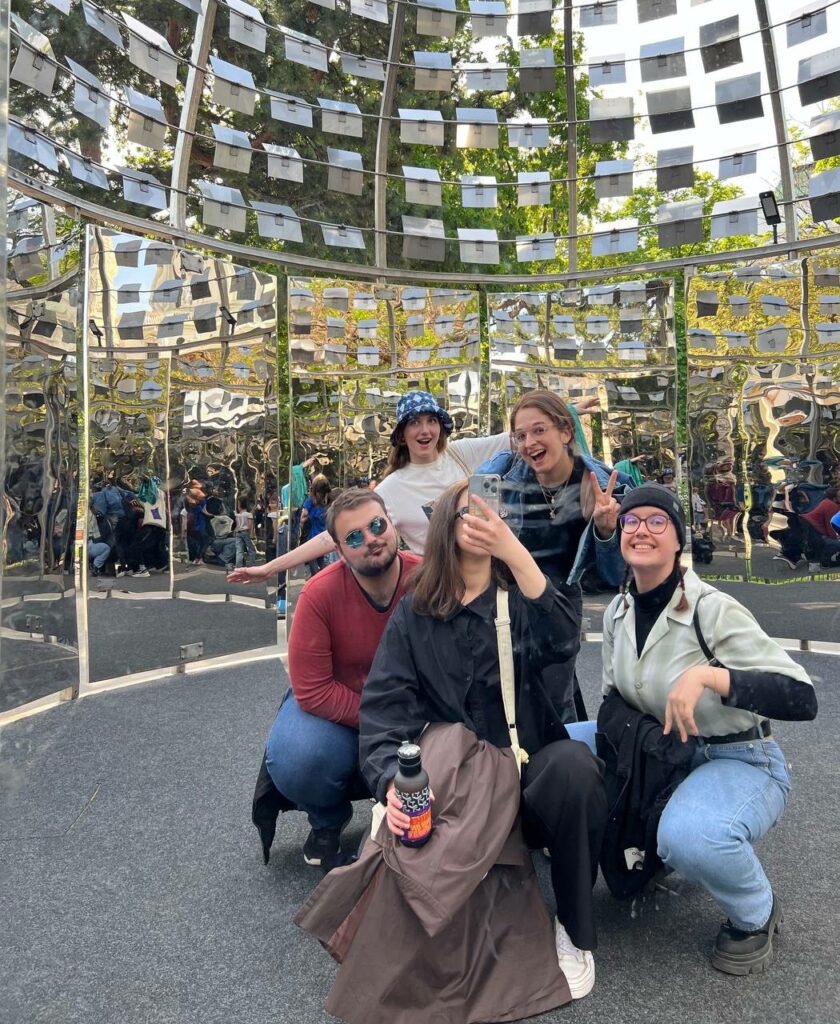 The volunteers welcomed me very warmly. From the very beginning, I felt at home and was very comfortable with everyone. There is a reason, why each year volunteers call themselves the Pijarska family – in a year of common life you become more than just neighbors and co-workers. As for us, we visited 5 countries together, checked dozens of different cafes in Kraków, and had more than a hundred "therapeutic" conversations in the kitchen or the living room of our flat. Together we laughed until our stomachs hurt at silly jokes, organized serious projects, and cried when we had to say goodbye. We watched over a twenty movies and several TV series (one of which was even in Polish!), walked millions of steps around Kraków together, and also, each of us (except Marta) broke some dishes in the kitchen. We ate pasta sitting on the rocks near the Morskie Oko, and slept on the floor of the Berlin airport. We organized a festival, an exhibition, several board game events and did a lot of other serious things that had a positive impact on the community of Kraków. Together we became a real team, not forgetting to develop in our own directions.
Personally I worked at the Klub Kultury Wola, and during these 9 months I had the opportunity to create my own English course for preschoolers, deepen my knowledge in content creation and copywriting, help during club events, and generally was able to see the work of a cultural institution from the inside. Our broadcast with Nastya on JazzKultura radio, in which we talked about Ukrainian culture, art, and music in English, was also a great experience. Throughout this journey, Anna, my coordinator, was always there for me, as well as other workers of the Wola, including Agnieszka, Ronda, Magda, and pani Jola. Each of them became an integral part of my experience and helped me throughout the project.
This is truly one of the best experiences in life, and therefore, no matter how trite the advice "Cherish every minute" is, it is still the most important piece of wisdom I would like to leave here. Alicja and Weronika are doing their best to make this project what it is. And as you can see, 6th group of the volunteers of the IntegrART project turns over the last page of their book with positive emotions, the best memories, and sincere gratitude.
Ira
Follow Ira to check her next adventures after IntegrART!